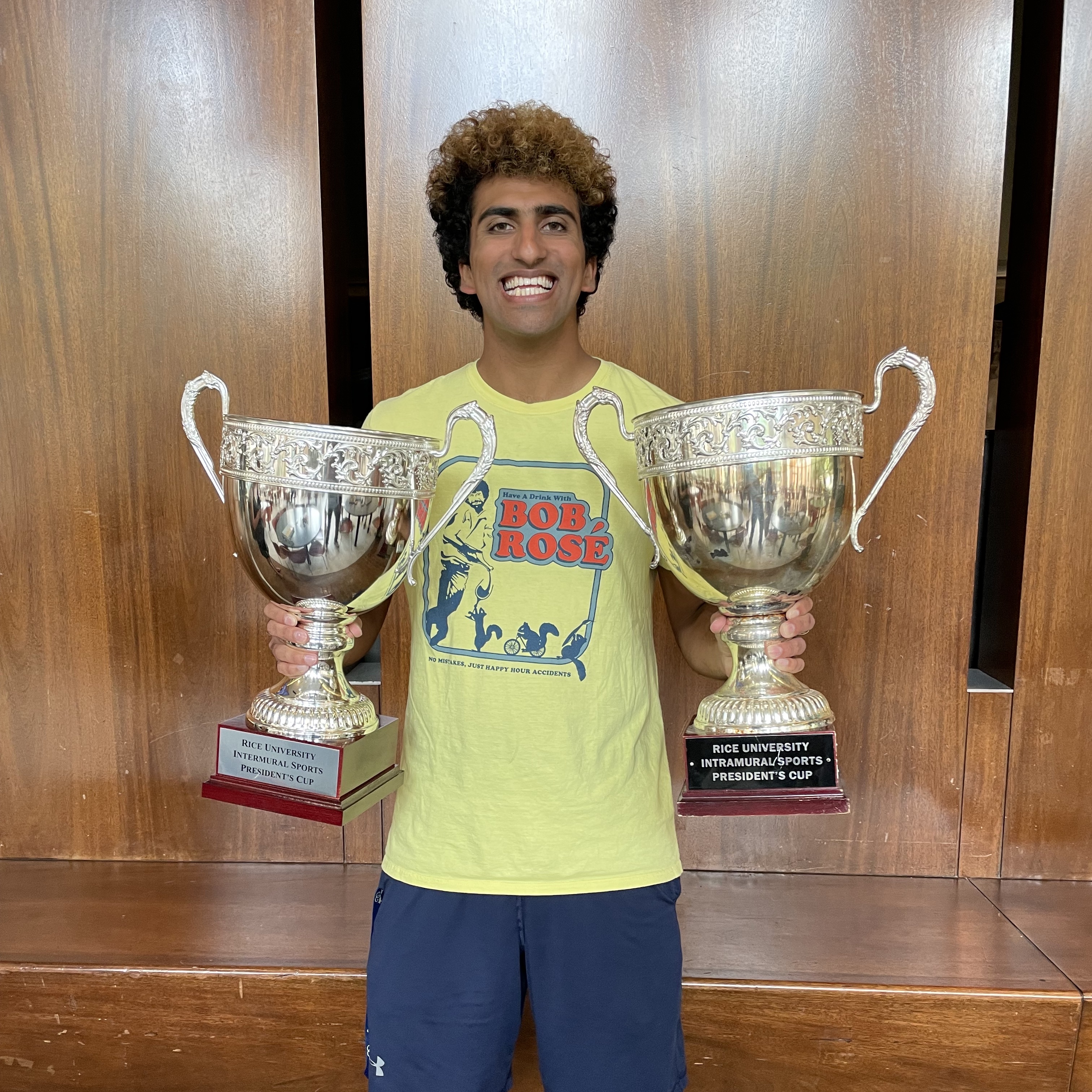 Hemish Thakkar
External Vice President
2024
hbt3@
Marc Armeña
Capital Improvements
2024
mba4@
About Hanszen Facilities and Spaces
Hanszen may have once been the laughingstock of the residential colleges for our poor facilities, but that is a thing of the past. We have a historic and well-maintained dorm in Old Section, a brand new dorm building in New Section, and the best commons of any college. See the tabs on the left for a deeper dive into Hanszen's spaces.
Commons
Hanszen Commons consists of two parts: Lower Commons and Upper Commons. Lower Commons has the entrance to South Servery, as well as a multitude of tables so that you can eat meals, catch up, debate whatever's on your mind, and/or joke with your fellow Hanszenites. It also includes Joyce's office, a kitchen, and a laundry room. It's here that Hanszenites will make announcements about events during meal times. Lower Commons even has a grand piano for your mealtime serenading desires, or for plinking out "Row Row Row Your Boat" late at night when you think no one's listening.
Upper Commons consists of a large open area with couches and numerous smaller rooms. You'll probably visit the open area at least once a week for Hanszen Cabinet meetings. Also in Upper Commons there is a game room with pool, foosball, and poker tables, several nice study rooms, a music room, a private dining room, and Hanszen's own library.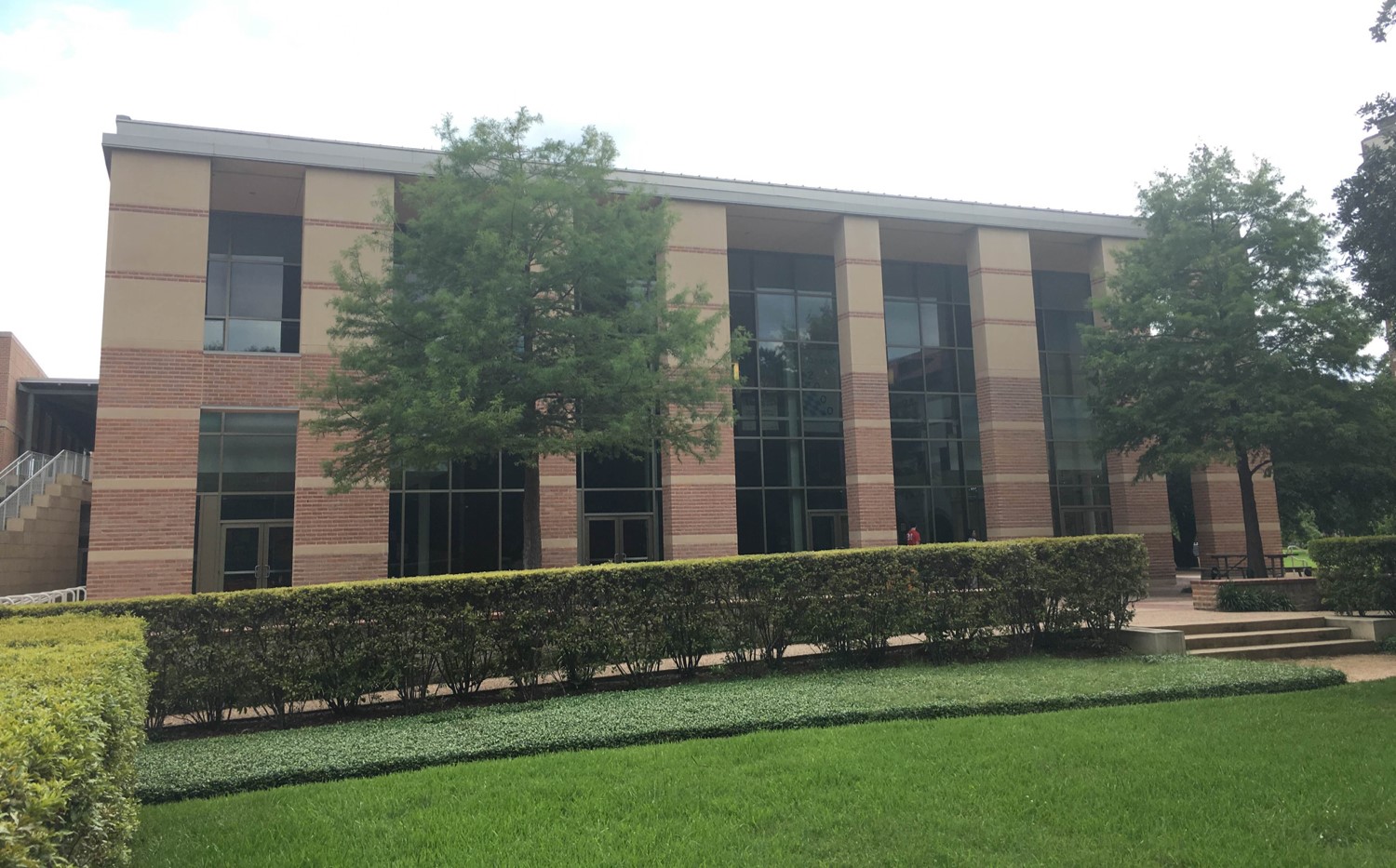 ---
Old Section
Hanszen Old Section is so named because it is the oldest part of Hanszen. Built in 1916 as South Hall, the building predates even the founding of Hanszen College. Old Section contains a variety of room types from singles to quads, but it has primarily doubles. Most residents use communal hall bathrooms, but some of the suites have a private bathroom. The first floor is also the home of Bryn and Neal Dugre, two of our Resident Associates. The second and third floor boast interior hallways where the majority of old section rooms can be found. If you keep going up to the fourth floor, you'll find an area called the Weenie Loft, which houses both a TV/movie room and a study room. Old section also has a five story tower with an attached sundeck.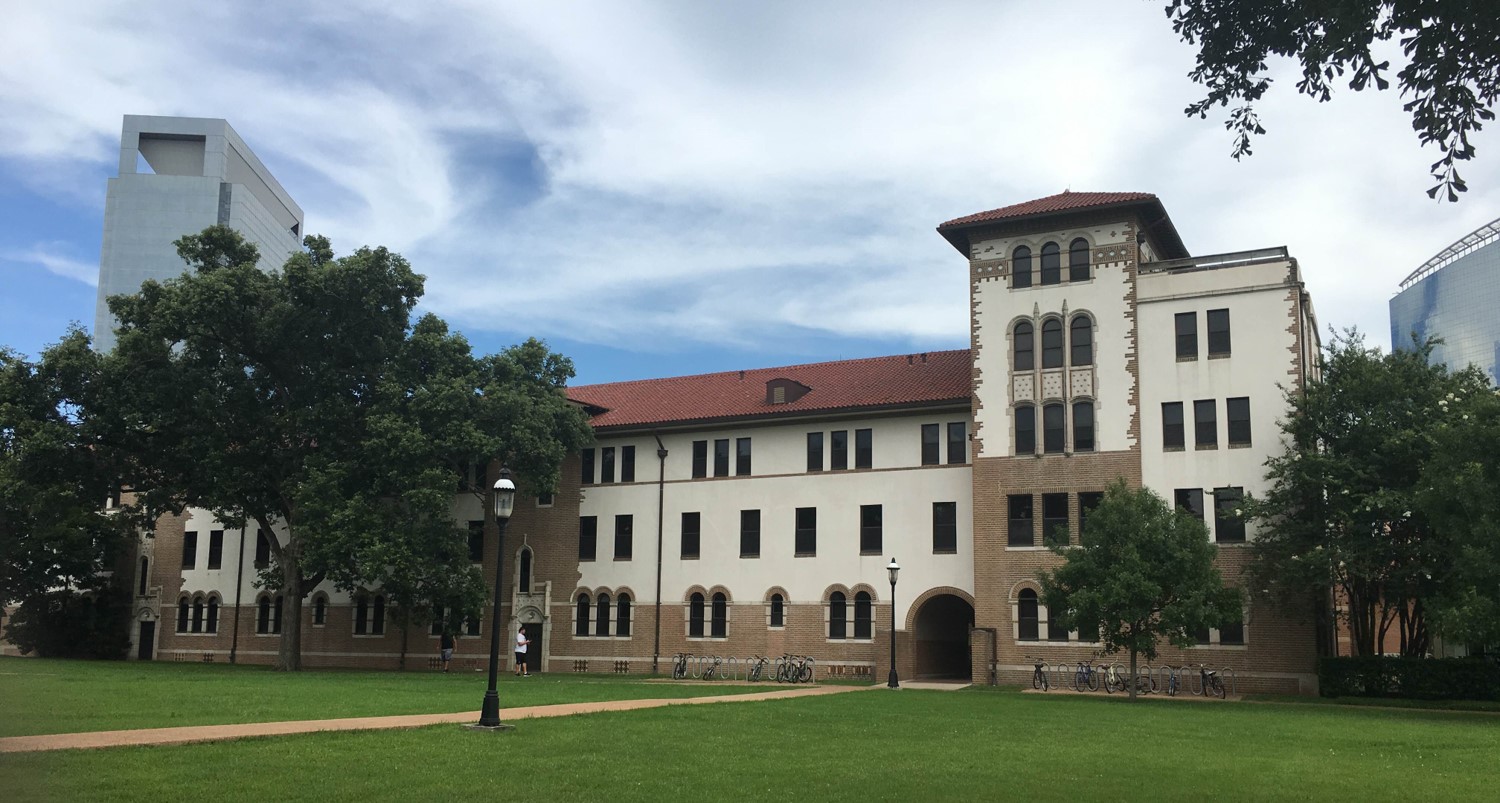 ---
New Section
New Section is Hanszen's newest building, completed in 2023. It stands on the former grounds of the original New Section, which lasted from 1957-2021. New Section is 5 stories tall with single and double rooms. Singles share a hall bathroom in groups of 2-3 rooms, and doubles have private bathrooms. The building hosts a lobby, two RA suites, and three terraces overlooking Hanszen quad. New Section's primary structure is made of mass timber, a stronger, lighter, more sustainable option to concrete. It is the largest residential mass timber building in Texas! The building also incorporates the iconic framed crests and colored tiles from the exterior of the original New Section.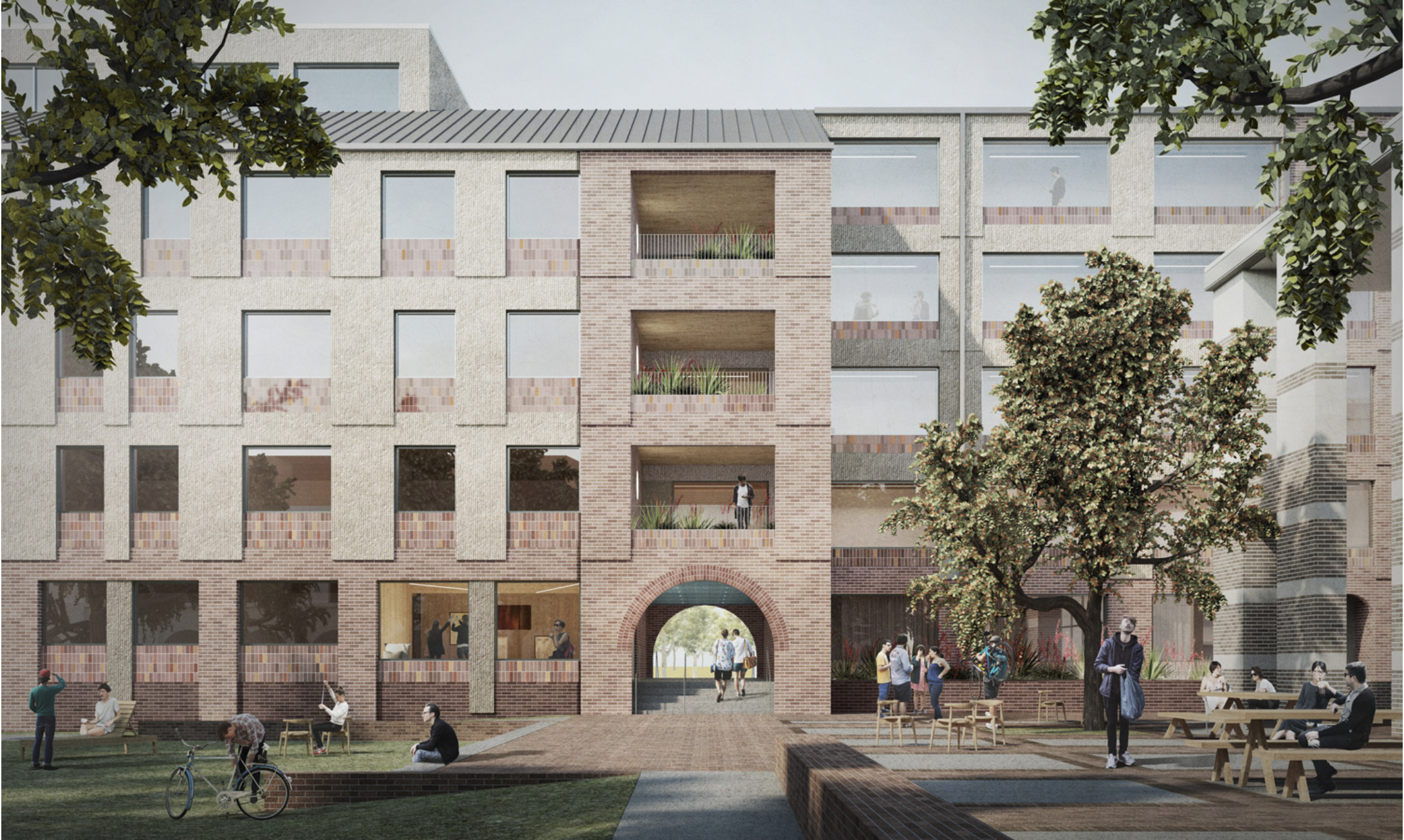 ---
These are the main types of Hanszen dorm rooms. All rooms come with a twin XL sized bed, desk, chair, built-in or standing wardrobe, dressers, ethernet ports, and trash and recycling cans.
NOTE: These are just examples of typical rooms. Some rooms may differ from these layouts.
---
Old Section Double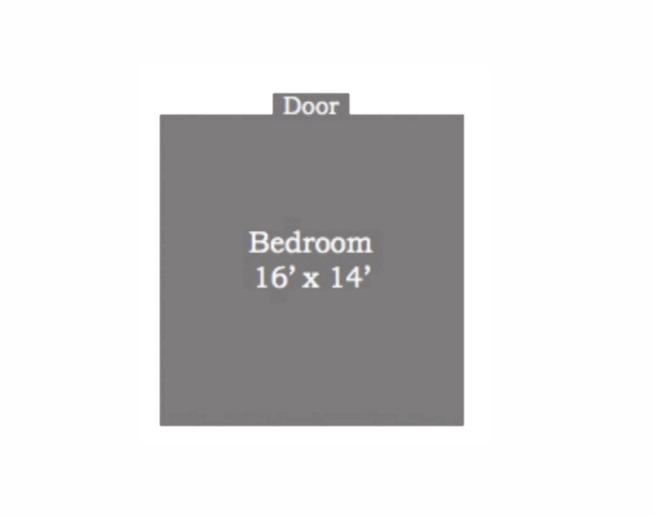 The Old Section Double is what most people imagine when they think of a stereotypical "college room." Depending on how much stuff the two people inside it have, doubles can range from spacious to cozy, but don't worry: there is plenty of space for the creative mind. Residents share a hall bathroom with others on their floor.
Old Section Quad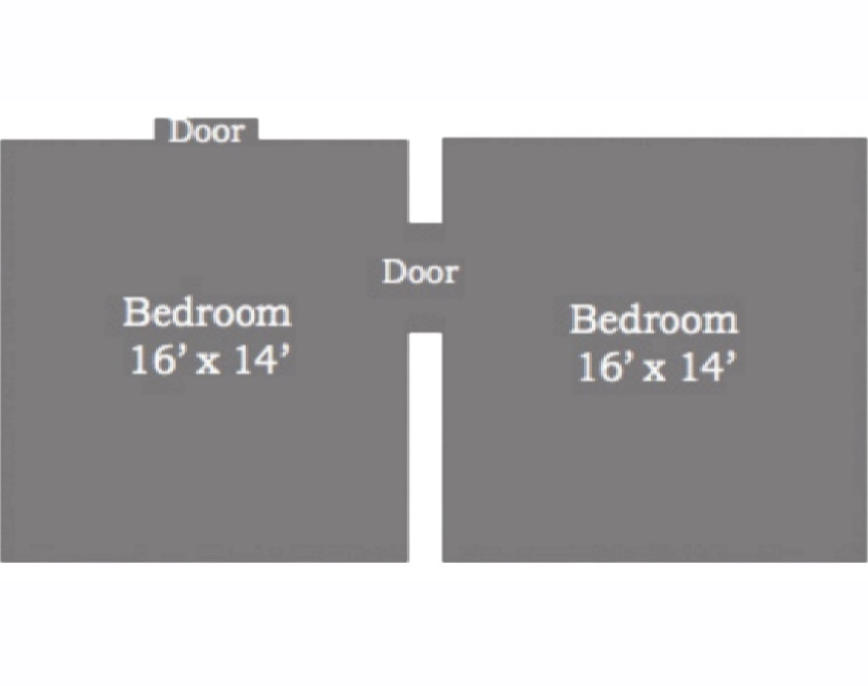 An Old Section Quad is basically two doubles with a door connecting them. Some Hanszenites choose to put two beds in each room, while others put all four beds in the inner room and treat the outer room as a common space. Residents share a hall bathroom with others on their floor.
---
New Section Single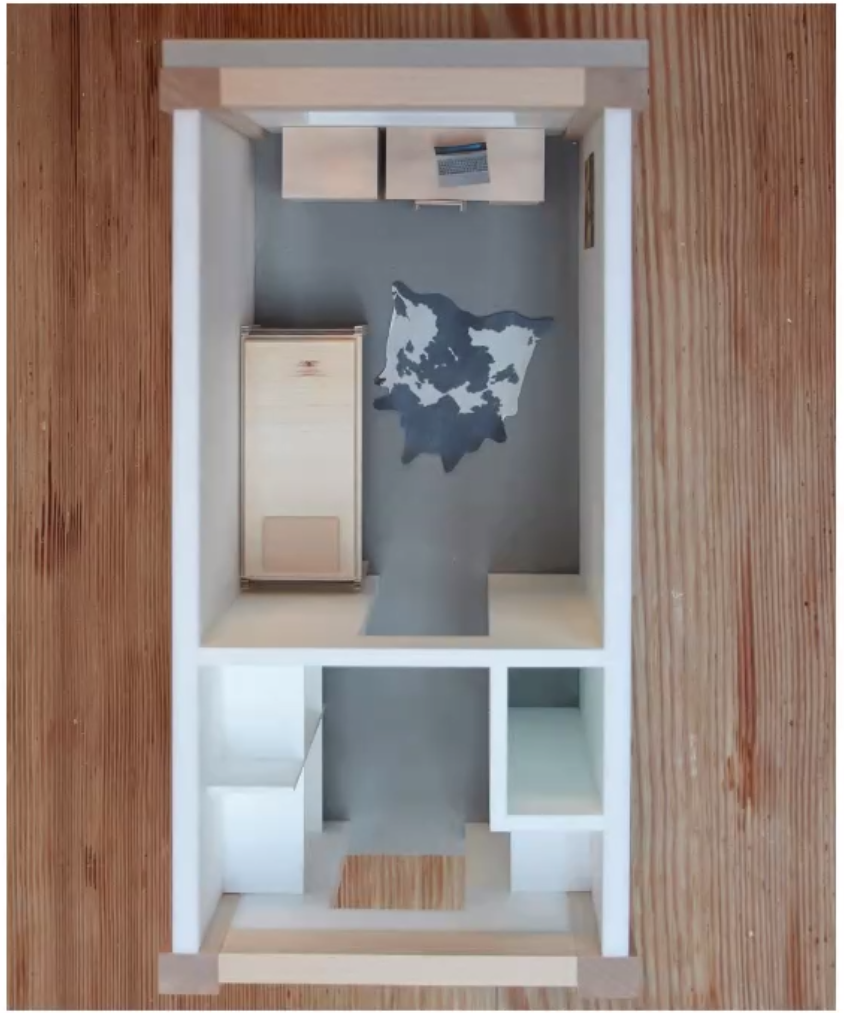 New Section singles are clustered in groups of 2-3 and share a private hall bathroom between them.
New Section Double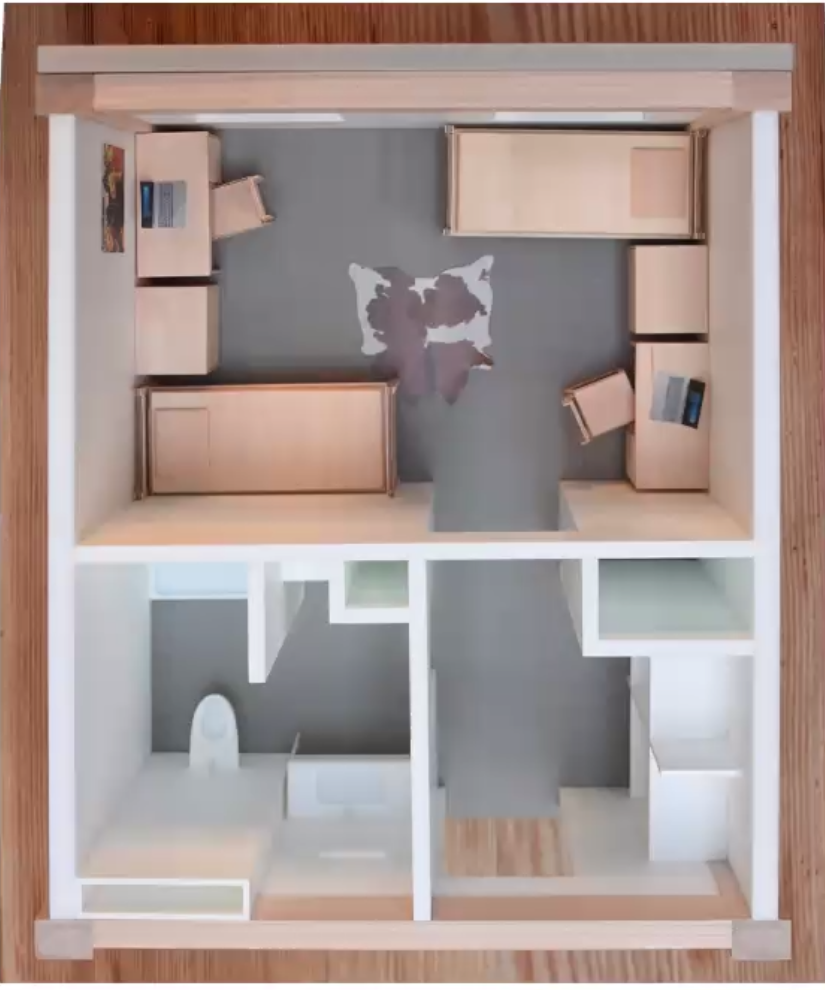 New Section doubles are spacious rooms with a private bathroom and lots of storage space.
Hanszen is proud of our Commons Culture, which means we like to congregate in common spaces rather than stay in our rooms, and our spaces reflect this.
Game Room
You can find Hanszen's Game Room in the corner of our Upper Commons, complete with a TV, Nintendo Switch, pool table, foosball table, air hockey table, and couches. It even contains a selection of card and board games for late-night fun with your friends.
Movie Room
As its name implies, the Movie Room (on the 4th floor of Old Section) contains several reclining couches and a TV, great for movie nights with friends.
Music Room
Just to the right of the Commons elevator, Hanszen's Music Room and its soundproofing and assorted instruments is the place to be for practicing the piano or rehearsing with your band and is a good practice room for music students.
Kitchen
Situated just a few steps from South Servery, Hanszen's recently rennovated kitchen has everything you need to bake late-night cookies with your friends or cook dinner on Saturday nights.
Private Dining Room (PDR)
Perfect for a quiet study spot or a lunch meeting with your club, the PDR can be reserved by any Hanszenite or organization that puts in a request to use it.
Sundeck
Sundeck, located on the 5th floor of Old Section, offers a panoramic views of the campus and surrounding city and is the ideal spot for weekend parties or viewings of the sunset or sunrise.
New Section Terraces
New Section's three terraces overlook Hanszen quad from the 2nd, 3rd, and 4th floors. They are great places to study, relax, party, or get some fresh air.
As much fun as we like to have at Hanszen, we acknowledge that the reason we are at Rice is to learn, so we have a plethora of studying spaces, here ordered from the most social to the most isolated.
Upper Commons
One of Hanszen's most recently improved spaces, the Upper Commons has several comfy couches as well as tables that overlook the lower commons, so it's the perfect space to study, socialize, or take a midday nap. One of the walls has even been turned into a chalkboard!
Lower Commons
The first floor of Hanszen's Commons, also known as the Lower Commons, is always full of people doing problem sets together or cramming for exams, and is for sure our most social study environment, but also offers a small hangout area with a TV (great for Netflix study breaks!).
Weenie Loft
Located in the 4th floor of Old Section, Hanszen's eclectic attic has tables, couches, and chalk board walls that are sure to help you work hard.
Computer Room
Located in Upper Commons, our computer room contains several free-to-use PC and Mac computers, as well as a printer and a whiteboard.
Library
Also in Upper Commons, Hanszen's library has walls lined with books, ample natural lighting, and even a chalk board.

Upper Commons Study Rooms
Apart from the main Upper Commons space, we have two study rooms with tables, whiteboards, and projectors.
Music Practice Room
Next to the Upper Commons study rooms is our very own music practice room. We have soundproof walls, music stands, several keyboards, guitars, and a drumset. Feel free to shred at 3AM.
Space Request
Use this form to reserve a Hanszen common space. NOTE: If you are throwing a private party, do not use this form. Fill out the Private Event Registration form instead.
Not Confidential: Hanszen EVP manages the form, but the responses are not confidential.
View Form