About Hanszen Academic Resources
Here at Hanszen we are committed to seeing our peers succeed, inside and outside of the classroom. If you're looking for help on homework, the a class to register, or anything class or work related, this is the place to be. Our Academic Mentors, Divisional Advisors, Peer Academic Advisors and Peer Carrer Advisors are here to help! Use the tabs on the side to learn more about each of our academic resources.
Academic Mentors
Hey Hanszen! If you're ever having any trouble in any class, want someone to proofread your paper for free, or just want some help with homework/studying for tests, come visit your Academic Mentors! The Mentors are a group of friendly Hanszenites who hold review sessions, read papers, and help out with whatever academic needs you may have! We are also going to hold some great lectures, research events, and study breaks this year, so get excited! All fellows are available during their office hours listed below, and/or are available by appointment via email! They will all also hold review sessions at relevant times throughout the semester.
Divisional Advisors
Divisional advisors consist of several Hanszen associates and Rice faculty who graciously volunteer their time to help you choose your classes and answer any questions you might have about certain majors. Most of these advisors specialize in a certain school (School of Engineering, School of Humanities, etc.). During O-Week, you'll have a chance to meet them to go over your planned schedule for the fall, and even during the school year, they will be available (usually by appointment) to help you with class or major decisions. (Note that after you declare a major, you'll be assigned a major advisor, which is an advisor from your department). Make good friends with these wonderful professors! They love to help you find your interests and succeed here at Rice, and are a great resource to have available.
Peer Academic Advisors
The Peer Academic Advisors (PAAs) consist of your fellow Hanszenites who have been trained by the Office of Academic Advising (OAA) to help you choose classes, clarify academic rules and regulations, assist in finding research opportunities and study abroad information, and anything else academically related. In addition, the PAAs also facilitate a number of academic events at Hanszen, usually in the form of academic planning sessions, where Hanszenites come together and help each other choose classes for the next term.
During O-Week, four Hanszen PAAs will be present to help the incoming students narrow down which courses they want to take and create their fall schedule. Once the school year starts, about twenty Hanszen PAAs will be available to answer questions about deadlines, registration, rules, and any other academic questions. They really are here to help you, so if you have any questions or just need solid academic advice, feel free to knock on their doors or send them an email. If they can't find an answer for you, they'll find someone who can.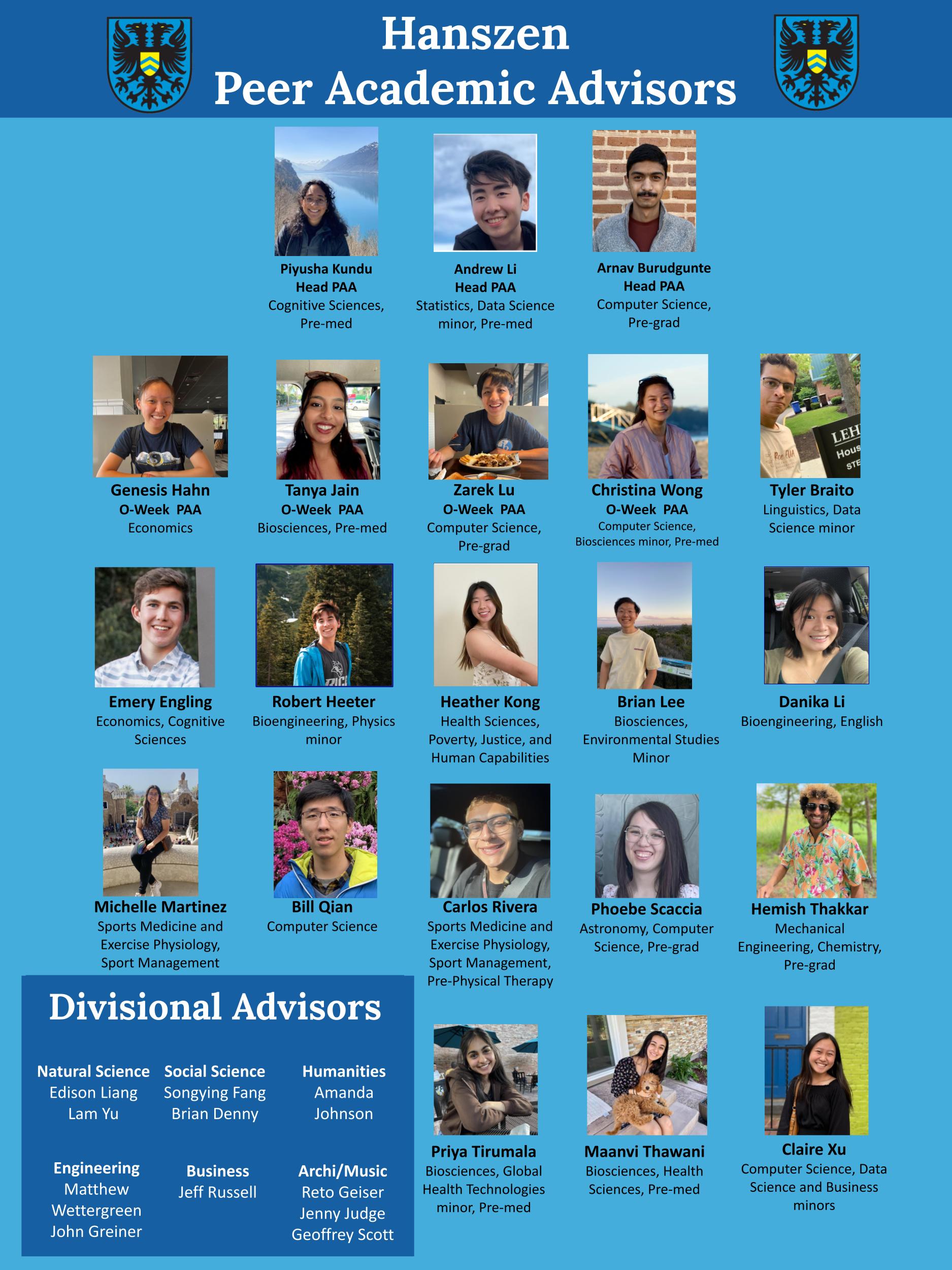 Peer Career Advisors
Need to get your resume reviewed? Unsure of what to do at the Fall or Spring Career Fairs? Want to know how to apply for internships/jobs? Have questions about the services that the Center for Career Development (CCD) offers? Then you've come to the right place!
The Peer Career Advisors (PCAs) are fellow Hanszenites who have been selected by the CCD to answer questions, review resumes, and redirect you to the appropriate resources to help you figure out your major or out-of-college plans. They're trained and always willing to help out, so feel free to shoot one of them a Facebook message or email if you need any assistance with your career development, even as early as the start of your freshman year!
| Name | Year | Email | Major/Track |
| --- | --- | --- | --- |